Having organised road trips for nearly two decades, across three continents and over 30 countries, we have clocked a few miles and learnt how to make our (and your) lives easier on the road. This blog is our Top 7 Tips on how to pack for a successful road trip.
Click here if you want recommendations and list of what to pack. 
We usually travel in a classic car, which means we often have limited space to carry everything. Therefore using luggage that optimises the packing space available is a real bonus. A really worthwhile investment is fitted luggage, tailored to your car, as it means that you can pack in your room and not in the car park. This avoids so many pitfalls – rain, arguments, other people watching you try to squeeze everything in! Classic Travelling Luggage has fitted luggage for over 180 different cars and counting… If your car isn't already listed it can be measured and fitted luggage created for you.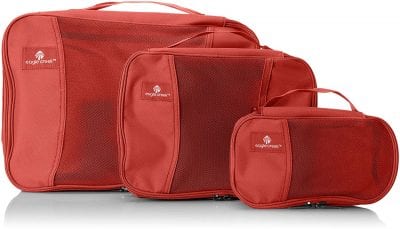 Finding these simple packing folders and cubes will revolutionise your life on the road. All your things can be neatly packed in each folder or cube (either by entire outfit or by item, eg all T-shirts) and you can unpack your entire case without having to unfold or mess anything up. It also means it is easy to keep dirty clothes separate from clean ones.
Pack a small day-pack (rucksack or small bag) to keep easily accessible (eg passenger footwell or immediately behind the seats) with readily available items such as water, money, sunglasses, sun-cream, camera, maps, phone etc.
Keep jackets easily accessible
Tuck jackets or warm layers, such as a fleece top, behind the seats or on top of your luggage. Even if the weather is great, you never know when you might need an extra layer, without having to unpack.
If you're going on a long road trip, it may be worth adding some storage areas or accessories to your car.
Storage nets are great in the footwells, or behind the seats – useful for maps, leaflets or water bottles
Velcro strips can be a really useful way of securing items in the car. I have spare bulb kits attached in this manner under the dashboard on two cars.
Look for extra storage under the bonnet. A lockable cash box here is a great way to keep documents. There may be room to strap metal oil cans (not plastic – it melts!).
Carabiners, S-clips and bungee cords are useful to secure items to stop them from rolling around in the car.
Don't forget that hi-vis jackets must be kept in the cabin of the car and not the boot/trunk. These must be accessible without having to exit the car first in many European countries.
Under-seat storage is a good option in some cars, especially for items such as warning triangles, fire extinguishers, spare bulb kits, etc.
Don't forget to pack out the spare wheel or wheel well, if you have one. Mine carries various spares, starter cables, inner tubes, hoses etc.
Check your cigarette lighter is working, or install one and also have a USB adaptor – very useful for charging items.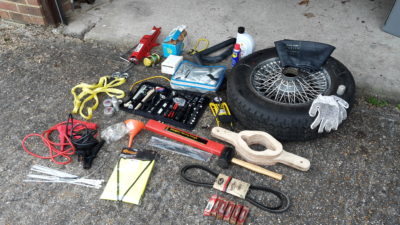 Take a basic tool kit – a tool roll is a great way to carry a selection of items you might need in a case of a 'failure to proceed'. 
We always carry a selection of spares too. If in any doubt over a part in your car, then either replace it or take a spare.
Make a list of what to pack for both you and your car – so nothing is forgotten.