Classic Travelling was established in 2003 and offers scenic motoring holidays and driving tours for classic, vintage and sports cars of all ages.
With Classic Travelling's continual presence on the best touring roads, we are second to none for advice about exploring the world by road, and off the beaten track. We actually drive every single mile of every single tour we offer, both as a reconnaissance trip and then to accompany the group tours. Unlike some other companies, we do not just rely on the internet for routes and directions! Looking to get in touch? Click here.
Meet the Team: Tour Directors & Managers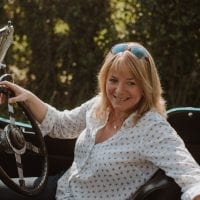 As founder and director of Classic Travelling, Sarah Dowding, has extensive experience of touring and motoring, having driven well in excess of 400,000 miles over the finest roads in Europe, North America, and southern Africa. Sarah has always had a love of cars, even as a small child, and enjoys driving. Thanks to her first job Sarah was fortunate enough to be able to buy her 1981 Morgan 4/4 back in 1997 and has been touring in it ever since, having taken it to over 30 countries on 3 continents. She added her 1965 E-type to the stable in late 2008 (which has now been to 17 countries across Europe since then) and indulged in her love of pre-war cars with a 1935 Austin 12/6 Newbury Tourer in late 2014. A 1967 Mercedes 250SL Pagoda joined the stable just before the New England Tour in 2015 and the car is now in the UK.
Sarah runs all the day-to-day aspects of Classic Travelling and will be the person you speak to or answers your emails – as well as accompanying all of the accompanied group tours as Tour Director & Journey Host.
---
Liz Dowding (Sarah's mother) is also a fellow director of Classic Travelling, and very much encouraged the purchase of the Morgan and the first few journeys. Liz really sparked the idea of Classic Travelling when she took the Morgan to the USA on a tour in 2000 for 7 weeks.
Liz still accompanies some of the tours as Journey Host and many will also know or recognise her from the Classic Travelling exhibition stand at Goodwood Revival and other shows. Liz runs her Hampshire B&B, Farthing Corner, the rest of the time and welcomes many classic car owners to stay and enjoy the driving routes around the area.
---
Melanie Bacon started accompanying tours in 2017 as a Journey Host and has ably assisted Sarah on tours in Spain, France and Monaco. She is very capable and friendly and an excellent driver, allowing Sarah to take photos and deal with admin whilst on the road. Mel is currently working towards her private pilot's licence as well.
Mel is responsible for most of the bookings for the Independent Tours and will be your point of contact.
---
Ella Pickard has been accompanying some Classic Travelling tours since 2010 and is a very popular member of the team, renowned for her sunny personality and infectious laugh. Her capable attitude makes her invaluable on tours. Ella also works as a PA and private chef and so knows how to get things sorted and has an excellent nose for outstanding restaurants and good places to eat. 
---
Tour Mechanic
Most of our tours to mainland Europe (not UK or Ireland), USA or South Africa are accompanied (unless stated) by our trusty and friendly mechanic, Joe Coleman of Oldtimer Services.
Read more about our tour mechanic here.