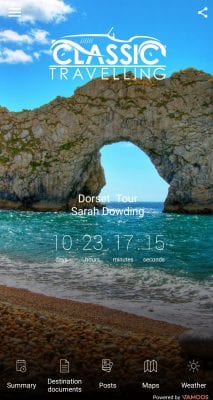 Have a tablet or smartphone? We recommend you download our travel app for easy access to all your travel documents. Completely free and easy-to-use, the app is an excellent way to stay organised on your holiday.
The app stores all your essential holiday information in one place, including:
Your travel itinerary
Your E-tickets and vouchers (if applicable)
A 5-day weather forecast
Maps of the areas you are visiting
Recommended places to visit (searchable by map or visit type)
Recommended places to eat/drink
All your Need to Know information, FAQs etc
Once downloaded, all features are available offline to help you save on your data usage.
What can you do with our app?
You can use the app to find your way to destinations, showing your position in real-time, as well as your hotel.
You can check your day-by-day itinerary for highlights and information.
Search our recommended places to visit, things to see/do
Find our recommended restaurants, cafes, pubs etc
Message us or other tour participants
Upload your photos or blog to share with others (on tour and family/friends)
Tell friends and family about your trip!
Eager to tell your friends and family about your upcoming holiday? With the app, you can share your countdown page across your social media platforms, including Facebook, Instagram, Pinterest, LinkedIn, WhatsApp, Snapchat and more.
To download the app, please click on the relevant link below. We recommend downloading while connected to wifi to avoid heavy data usage while downloading.
Installed the App?
To access to your itinerary, please enter your trip's unique reference number as provided to you in your confirmation email. If you did not receive one, please contact Classic Travelling.
If changes are made to your itinerary after you access your booking on the app for the first time, please click refresh on the app to ensure you have the latest information and documentation.
Click here for full instructions
Please note: A hard copy of your final documents will also be dispatched 7-14 days prior to departure via post or e-mail for Accompanied Tour participants only.