ROUTE MAPS AND FILES FOR NAVIGATION ON SMART PHONES
We have trialled many systems and apps and this is the best we have found for smartphone navigation which still allows you to follow our pre-programmed and carefully designed scenic and cultural routes.
It's a little time-consuming to load the app, but once it's done, it's very easy.
You will need to download the My Route App Navigation App
(14 day free trial or €19.95/year OR €39.95 for 3 years)
Click on the image below to download the app to your phone


Downloading the MyRoute-App Navigation App
Once the app is downloaded you will see this screen. Click 'continue'
Register for an account (or login if you have used this app before, and proceed straight to 'Downloading the Routes' instructions of the next page)
Register your details as applicable, then click 'continue'
Add your name, and click 'continue'
There is a 14 day trial, which is suitable for virtually every tour we offer. You can upgrade if you wish to later.
Click 'To Main Menu' which will bring you to the home screen (far right), which is the normal landing page when you open the app from now on.
Click 'Offline Maps' to download any particular maps in the world, so you don't need to use your phone data whilst navigating.
Exit this app and follow the instructions below.
Downloading the Routes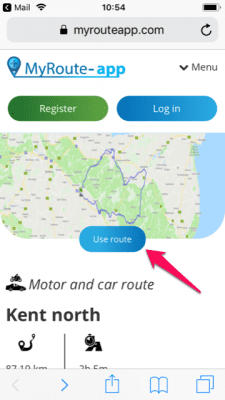 Click the links for each map and it will open in a web page like this. The route maps and links are at the end of this document.
Click 'Use Route'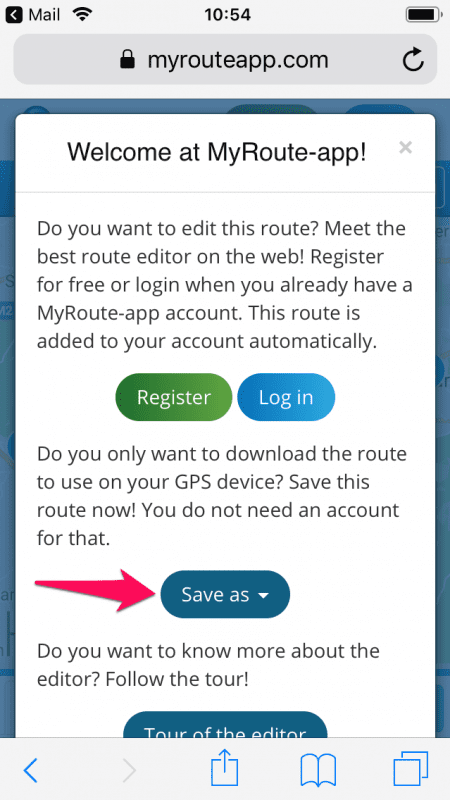 On the next screen click 'Save As' in the middle of the screen. Select '.gpx 1.1 (route, track)'
Now Open the MyRoute-App Navigation app again
Open the App and see the home screen
Click 'Navigation & Tracking'
(The Settings button (top right circle with cogs) can be used to set your preferences, such as miles or kilometres, map perspective (2D/3D), voice/language, etc)
The Navigation & Tracking screen allows you to search for specifics, such as fuel, parking etc.
However, to access the route map, click Routes, at the top of the screen.
The route files you have downloaded should now show on the screen. Click the route map file you wish to follow.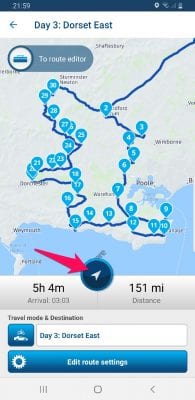 The map page will show your current location, and the route to be navigated. If you are not already at the start of the route, the directions will take you to the start first. Click the arrow in the centre of the screen to start navigating.
This screen also tells you the length and anticipated duration of the journey.
The map screen shows the following (varies by phone)
Your location
Distance to the next turn or junction
Your nearest fuel
Your actual speed
Speed warnings/limits
Click the three dots in the bottom right corner of the map screen and it will show this screen. It is possible to:
Pause the navigation
Skip a waypoint
Search for anything (see Step 2)
Change your route settings
Change your navigation settings