New England is well known as a distinctly American region rich in history, culture, and natural beauty. It is particularly known for its brilliant autumns (fall) to drive lazily through mountains blanketed with gold-and-red foliage. There are also plenty of other things to do such as stopping at country stores, orchards, local restaurants, wandering through antique shops lining a peaceful village green, exploring the museums and shopping of the cities, or to get a head start on some cool day hikes in the mountains and countryside. This three week tour will start in Newark, New Jersey. Drive across New York City, onto Long Island for a night in the Hamptons.
Take the ferry to Connecticut before heading to Newport, Rhode Island for two nights. Explore Cape Cod and the fabulous city of Boston for a few days, and then drive north up the Maine coast to Camden. The tour then turns inland, across Maine and New Hampshire to Mount Washington and onto Stowe, Vermont, giving plenty of time to take in the mountains. Enjoy a weekend in southern Vermont in true New England style. The tour winds it way south, through Massachusetts and the Berkshires, then finally through Connecticut back to Newark (for those shipping cars) and New York. The final night of the tour will be in New York, with an option to extend your stay for those who wish to take a bigger bite of the Big Apple.
Our carefully chosen route ensures that we pass by some lovely places to see and visit each day. We stay off the main roads and highways as much as possible, and the traffic is light and the driving easy. We have written detailed route directions for your convenience, and describe all the sights to see and recommend places to visit or eat.
This tour is ideal for September/October for the colours, although enjoyable at any time of year.
HIGHLIGHTS
• Beautiful beaches & coastline of Long Island, Cape Cod & Maine
• Fascinating, historic towns such as The Hamptons, Newport, Stowe, Woodstock & Deerfield
• Enjoy a sunset sail in Newport Harbor, Rhode Island
• Mansion visits in Newport, Rhode Island
• Sensational drives including Mount Washington, Kancamagus Highway, Equinox Skyline drive & Mohawk Trail
• Stunning scenery with lakes, mountains, coasts, countryside, villages & towns
• Be a 'leaf peeper' and see the incredible autumn leaf colours
• Visit the world-famous cites of New York & Boston
• Climb Mount Washington
• Delicious seafood, lobsters, and seasonal foods
• Outstanding hotels, from wood shingle beach houses & mountain retreats to traditional weather-board village inns & luxury city hotels
• Visit 7 states: New York, Rhode Island, Massachusetts, Maine, New Hampshire, Vermont & Connecticut
Itinerary
May be subject to change.
Day 1
Day 2
110 miles
Day 3
88 miles
Day 4
Day 5
122 miles
Day 6
162 miles
Day 7
Day 8
180 miles
Day 9
151 miles
Day 10
155 miles
Day 11
115 miles
Day 12
164 miles
Day 13
130 miles
Day 14
125 miles
Day 15
121 miles
Day 16
72 miles
Day 17
49 miles
Day 18
173 miles
Day 19
28 miles
Day 20
163 miles
Day 21
Accommodation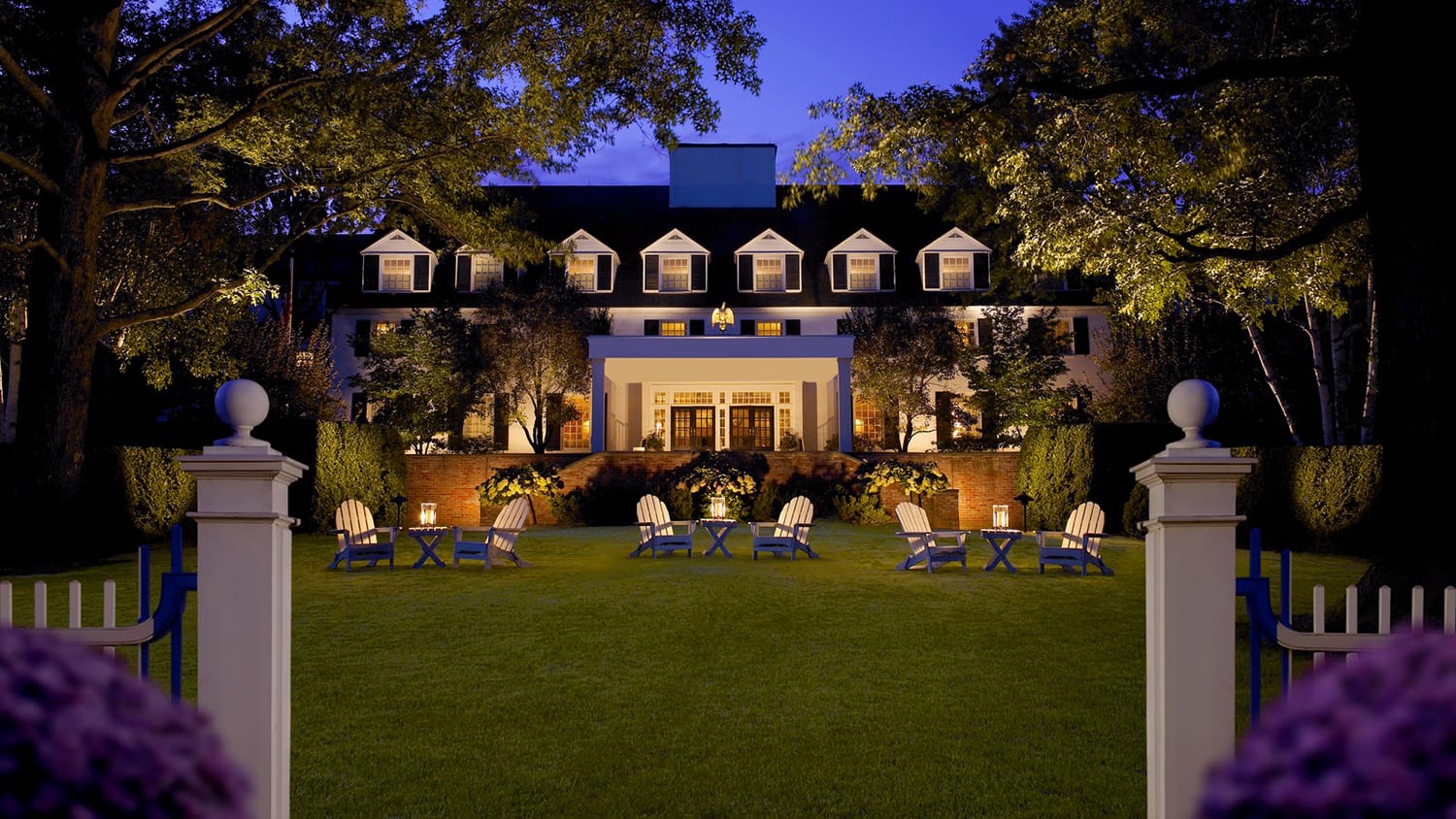 We have hand-picked some beautiful, quality character hotels with great charm, in superb locations across New England. From old cedar-shingle coastal properties and exquisite village inns to luxurious mountain lodges and contemporary city hotels. All, of course, have suitable parking for our cars. In most places we shall be staying two nights, with some one-night stops only occasionally. Rooms are well appointed and generously sized (especially by European standards), beds are enormous (6ft plus doubles, or two queen beds) and blissfully comfortable, and the food superb – both dinners and breakfasts, with plenty of choice.
All the hotels have been personally visited and inspected by us. We have checked the parking arrangement, the rooms, the available facilities and chosen hotels in lovely areas that we're sure you will enjoy.
What's Included?
Requirements:
All passports must be valid for six months after the end of the tour. You will also need your vehicle registration documents, driving licence (a photo-card licence or international permit is best), and an international insurance green card.
Pricing
Tour Book (incl UK P&P):