A wonderful two-week tour of the Norwegian fjords and mountains. This tour takes you on an amazing journey through historical, cultural and scenic delights. Highlights include visiting the spectacular fjords, exploring the exquisite towns of Oslo, Bergen and Alesund, driving some of the world's most thrilling mountain passes (Trollstigen, Ørnesvingen, Gamle Strynfjellsvegen, Sognefjellet and more) and scenic drives, including the famed Atlantic Road, past breathtaking scenery and vistas, and discovering one of the most beautiful countries in the world.
The tour will start and finish in Oslo in a beautiful hotel before heading past the beautiful Heddal stave church to Telemark to stay overnight in a gorgeous wooden hotel by the water. Drive north, past the Voringfossen Waterfall, to Bergen for a couple of nights, and night at Balestrand, and then onto the Alesund area for three nights. Leave the coast and turn inland to the fjords and stay at the end of most famous, Geirangerfjord, where we shall stay for two nights. Climb the mountains and pass through valleys to Lom and then onto Sogndal. Take a ferry cruise across Sognefjord and then stay on the shores of the Hardangerfjord, famed for its orchards. Then return to Olso for two final nights in Norway.
"What a fantastic trip !!!! I strongly doubt you can have more fun with your clothes on !?!?" – B.H., Sweden
HIGHLIGHTS
Sensational Norwegian fjords including Geirgangerfjord, Hardangerfjord & Sognefjord
Thrilling mountain roads of Trollstigen, Ørnesvingen, Gamle Strynfjellsvegen, Sognefjellet and more
The famed Atlantic Road, hopping across the coastal islands
Breath-taking & majestic scenery of one of the world's most beautiful countries
Visit Oslo, Bergen, Ålesund & Geiranger
Stay in gorgeous hotels, from beautiful city hotels, incredible Gothic-style wooden hotels to fjord-edge hotels and luxurious log-built hotels
Cultural delights such as stave churches, historic towns & villages, fascinating museums
A boat trip along a fjord to a historic hotel for dinner
Itinerary
May be subject to change.
Day 1 : 11 June 2018
Fly/transport: Fly to Oslo and transfer to the first hotel where your car will be waiting for you. We shall be offering the option of transport for cars from the UK to Norway in covered transporters. (Read more below)
Drive: Take the ferry from Copenhagen, Denmark or from Kiel, Germany to Oslo, Norway and drive to the first hotel.
Stay overnight in a beautiful traditional hotel on the outskirts of Oslo which dates back to 1894 and offers panoramic views of Oslo and the Oslo Fjord. The renowned restaurant offers dining in a unique and historic setting and there will be a welcome dinner for all participants.
Day 2 : 12 June 2018
132 miles
Leave Oslo and enjoy the drive , past lakes and over the mountains into Telemark, to Dalen and stay in a fabulous, wooden Gothic hotel at the top of a fjord. The interior and exterior of this hotel are exquisite. Dinner is included.
Day 3 : 13 June 2018
193 miles
Drive north to Bergen through the most beautiful scenery. There is a lovely little stave church to visit shortly after leaving the hotel. Drive over the mountains and along valleys, past the famous twin waterfalls of Latefossen to Bergen and stay for two nights.
Once in Bergen the tour will spend two nights in a fabulous hotel on the waters edge, just seconds along the quay from the World Heritage-listed, and very picturesque, Bryggen. Light evening meals are included at the hotel, but if you want something more substantial there are many good restaurants to sample in Bergen.
Day 4 : 14 June 2018
The day is yours to explore the many delights of Bergen. The old town is a fascinating area to explore, with little wooden houses jostled in the smallest of spaces on the hillside overlooking the harbour. Maybe include an Grieg concert at the composer's home, Troldhaugen. Or climb up Floibanen and enjoy the view from the top, looking over the city and the sea.
Day 5 : 15 June 2018
118 miles
Leave Bergen and drive to Voss and then north for a wonderful drive to Vagsnes, passing Vik, with its medieval wooden stave church. It is then a short ferry trip, across Sognefjord, Norway's longest and deepest fjord, to Balestrand, where you will stay in a beautiful wooden hotel right on the fjord edge.
Day 6 : 16 June 2018
189 miles
Wind your way around the fjords and over the mountains to Stryn and the Sunnmore Alps, which has a wonderful profusion of fjords, small fishing communities, island gems and majestic mountains to discover.
Continue on to the most stunning hotel, made up of fabulous log buildings in a beautiful fjordland setting. There will be three nights here to allow time to visit Alesund and drive the Atlantic Road. Dinner is included this evening.
Day 7 : 17 June 2018
35 miles
Spend time exploring the picturesque town of Alesund, which has a lovely centre, based around the harbour. It is also possible to climb the steps (or take the train) to the top of the mountain overlooking the town.
Alesund is a picturesque art-deco town, entirely rebuilt after a devastating fire in 1904. The myriad of turrets, spires and beautiful ornamentation that give the town its distinctive character are like something from a fairytale.
This evening there will hopefully (weather dependent) be a boat trip along one of the fjords to a beautiful, historic hotel for dinner.
Day 8 : 18 June 2018
119 miles
A circular tour to drive the fabulous Atlantic Road – a unique stretch of road which takes you right out to the ocean's edge. In 2005, the road was voted Norway's 'Engineering Feat of the Century', and is also known to be one of the world's most beautiful drives. It connects Averøy with the mainland via a series of small islands and islets spanned by a total of eight bridges over 8 kilometres. The entire stretch between Bud and Kristiansund is one continuous experience packed with coastal scenery, culture and history. Dinner is included this evening at the hotel.
Day 9 : 19 June 2018
127 miles
Leave Alesund and drive along the coast to Andalsnes, a quaint little town on a lake. Drive up the famous Trollstigen – an awesome road with hairpin bends, a 1:12 gradient and practically one lane all the way. Continue onto Geiranger and down the Eagle's Highway into the valley. The hotel overlooks the Geirangerfjord, one of the most beautiful and photographed parts of Norway. There is also a vintage car museum and the acclaimed Norwegian Fjord Centre to visit. Stay for two nights in a beautiful wooden hotel above the town and overlooking the area.
Day 10 : 20 June 2018
Spend the day relaxing. There are some fabulous walks in the area, or take a boat trip down Geirangerfjord to Hellesylt to see the fjords from a different angle. The fjord is reputed for its magnificent waterfalls, such as Friaren, Desyvsostre and Brudesloret. The area is also famous for the many mountain farms, clinging to the mountain hills along the fjord. This beautiful place also offers some of the world's most famous viewpoints; Ornesvingene, Flydalsjuvet and Dalssnibba.
Day 11 : 21 June 2018
145 miles
The ascent south from Geiranger is a fabulous road of 37 hairpin bends. Today's drive includes some sensational mountain passes and breathtaking scenery. Take the old road up to the summer skiing area (there will be a chance to indulge if you wish) at Strynefjell and then over the mountains on some stunning roads to Lom.
Visit Roisheim, in the heart of the beautiful valley of Boverdalen, which consists of 12 perfectly preserved buildings from the 18th century. The chalets have been lovingly restored with utmost care. This is a great stop for lunch (included) and its excellent cuisine and wine cellar are only some of the reasons to visit this place, situated close to some of Norway's tallest mountains. Continue over the mountains and descend to Lustrafjord, an arm of the Sogndalfjord. Visit the stunning stave church at Urnes and then stay overnight at Solvorn, on the edge of the fjord, at Norway's oldest family-run hotel, a beautiful wooden building in lovely gardens.
Day 12 : 22 June 2018
82 miles
Cross the beautiful Sognefjord and then head across the mountains to the Hemsedal Valley, visiting the Borgund stave church on the way. Stay overnight in a fabulous hotel with superb mountain views. Dinner is included.
Day 13 : 23 June 2018
130 miles
Drive over the mountains, heading south  and then along the shores of Tyrifjorden to Oslo. The scenery is beautiful and the driving fun. Arrive back in Oslo for the final two nights and stay at the same stunning hotel as the first night of the tour. Dinner is not included this evening.
Day 14 : 24 June 2018
Enjoy a day exploring Norway's capital, Oslo. There will be a farewell dinner this evening at the hotel.
Day 15 : 25 June 2018
For those flying home the cars will be collected this morning to be transported back to the UK. Tour participants will then be taken to the airport for the flight home
For those tour participants driving take the ferry from Oslo to Copenhagen or Kiel and then depart for home.
Accommodation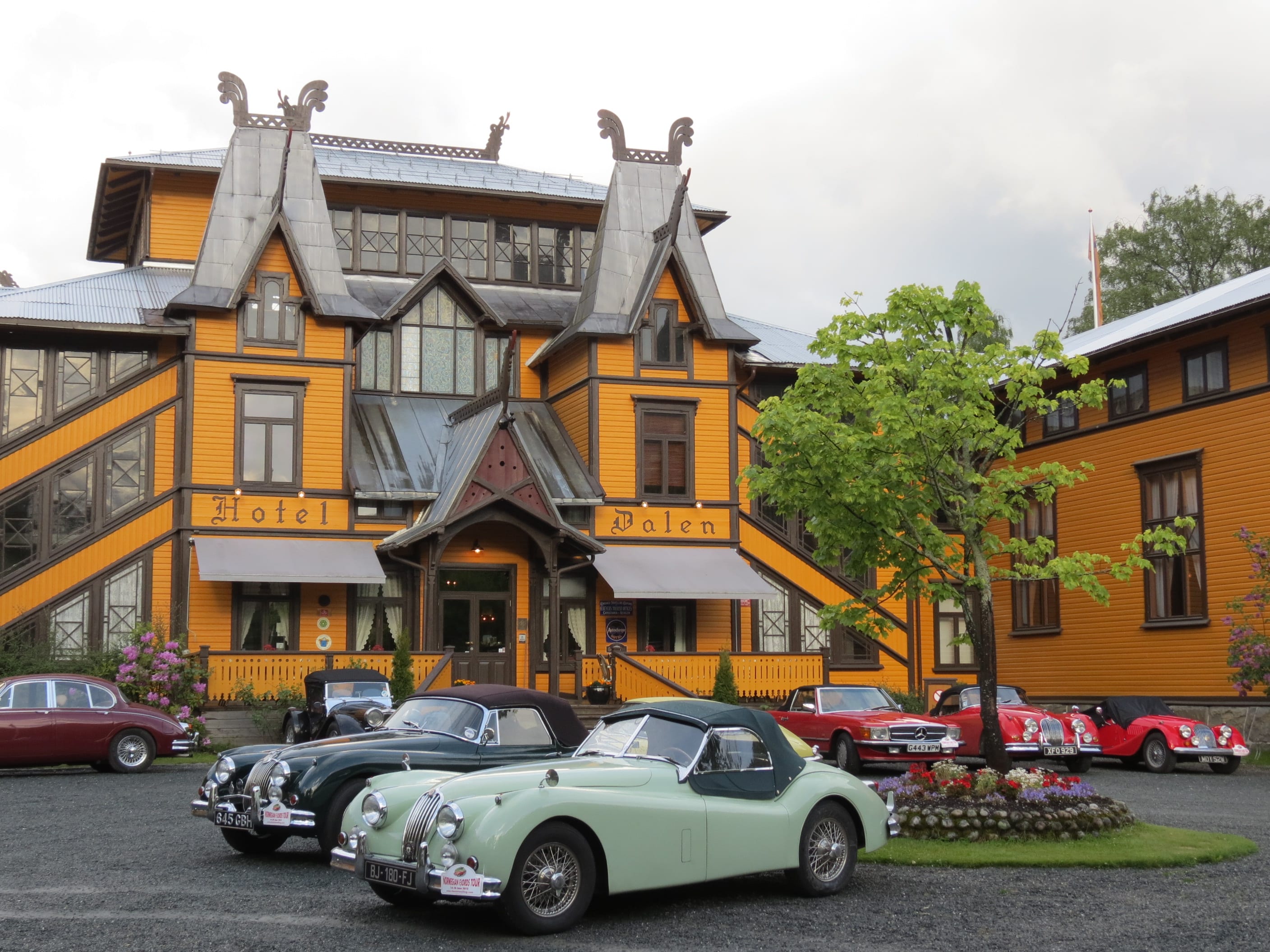 Stay in some delightful hotels, including wonderful wooden Gothic hotels, mountain log cabins, converted wharf-side warehouses, and stylish city hotels. All the accommodation is individual and unique and of a high standard. Due to the nature and age of these hotels, rooms vary from charmingly comfortable to the utmost luxury.
We have carefully hand-picked each hotel for its unique atmosphere and style. All accommodation includes breakfast and most include dinner. Suitable parking is, of course, a feature of each hotel, but it is rarely under cover. In the cities you will be using small, public parking houses that are locked at night, adjacent to the hotels.
"As always, a wonderful tour! Nothing could take away the euphoria we felt having completed a fantastic trip (thanks Sarah and Nick) amongst such friendly company. Thanks everyone and look forward to being in your company on future trips." – T&H.R., Berkshire
What's Included?
Tour book – includes a brief history of the region, route maps and comprehensive directions, and a detailed account of everything there is to do, see and visit each day.
Luxury hotel accommodation for 14 nights (4 & 5 star hotels)
Full breakfast each morning
Three-course dinners on 11 evenings, with wine (1/2 bottle per person)
Light buffet dinner on 2 evenings in Bergen
A boat trip and dinner at a historic hotel near Alesund (weather permitting)
Lunch at Roisheim historic hotel
Road atlas, rally plaque, luggage tag, window sticker, pen/highlighter
Accompanied by experienced & friendly tour director, Sarah Dowding & assistant
The services of our tour mechanic, Joe Coleman of Oldtimer Services, to keep you on the road
What's Excluded
Fuel and ferry fjord crossings
Lunches (apart from 21st June)
Dinner on 1 evening (penultimate night in Oslo)
Any drinks other than stated
Getting to Norway
There will be the option of either driving your car to Norway or we shall arrange covered transporters to take cars from the UK to the first hotel, near Oslo. Participants can then fly to Oslo and we shall arrange transport to the first hotel from the airport.
Transport for the cars is from £1,295 (inc VAT) per car each way – based on 6 vehicles per transporter. The price will rise if there are fewer cars in the transporter.
Flights to Oslo are available from:
London Heathrow (Finnair, SAS, British Airways)
London Stansted (Ryanair)
London Gatwick (Norwegian)
Manchester (SAS)
Edinburgh (Norwegian)
Requirements
All passports must be valid for six months after the end of the tour. You will also need your vehicle registration documents, driving licence (a photo-card licence or international permit is best), and an international insurance green card.
Please check with your travel and motor insurers that you are covered for travel in the required countries.
You are also required to carry a warning triangle, first-aid kit, two fluorescent jackets, set of replacement bulbs and a national identification sticker in your vehicle.
Each person must have a passport (and any necessary visas for non-EU passport holders) valid for Norway.
Pricing
£4,500 per person, based on two people sharing a double or twin room

Please enquire about single occupancy supplement
Book Now